Music is an important – if passive – hobby of mine. I remember very well when I went to live on my own in the summer of 1988. I made sure I had good stereo equipment, and after the move I immediately set up my awesome new Pioneer stereo tower so that I could listen to my favourite music as soon as possible.
That has pretty much been the same way every time I moved. Always. The. Stereo. Tower. First. Next I would listen to some classic Jarre or Vangelis or Jason Becker or Metallica until all other boxes had been unpacked, every knick-knack given its place.
My neighbours never necessarily appreciated me moving in next to them.
Through the past 15 years circumstances have forced me to become headphone- rather than loudspeaker-centric when it comes to audio enjoyment. The circumstances included presence of a baby in the house, or neighbours one perhaps-too-thin wall away, and the past 10 years of my laptop being my own personal media server. I have about 1 terabyte containing everything recorded so far that I might conceivable ever want to listen to.
I tried a variety of in-ear, over-ear, on-ear, wired and bluetooth headphones. They each had their rather individual set of (dis-)advantages. In-ear headphones (Sennheiser CX300) tended to gently dislodge themselves and disabled me from humming along to music if I was alone (I heard myself 'from the inside'). On-ear headphones (Creative Labs Sound Blaster Jam and Sennheiser HD 407) were generally quite audible to other people present. Over-ear headphones (a Sennheiser I forgot the type of) didn't fit properly over my rather large ears and were rather stuffy. And even a rather pricey on-ear headphone like my latest Sennheiser, the iUrbanite, just lacked any oomph. The music, in fact, sounded too distant and trebley. With bombastic synth or metal like I prefer to listen to, it didn't satisfy. The last earphones I had been satisfied with were the Sennheiser HD 455 (on-ear). After a while the foam earpads had dried out, though.
From 2000 on I have used at least 9 pairs of headphones as far as I can remember. When I noticed the coating of the iUrbanite ear pads disintegrating a mere 5 months after the purchase I wanted to get, for once and for all, a decent pair of headphones.
One of the last things that Facebook successfully advertised to me, before I deleted my account, was the Nuraphone (www.nuraphone.com). The Nuraphone was Kickstarted a while ago, at which time I thought it was too expensive to get – though cheaper than what it ended up at in the end, at a rather hefty € 399.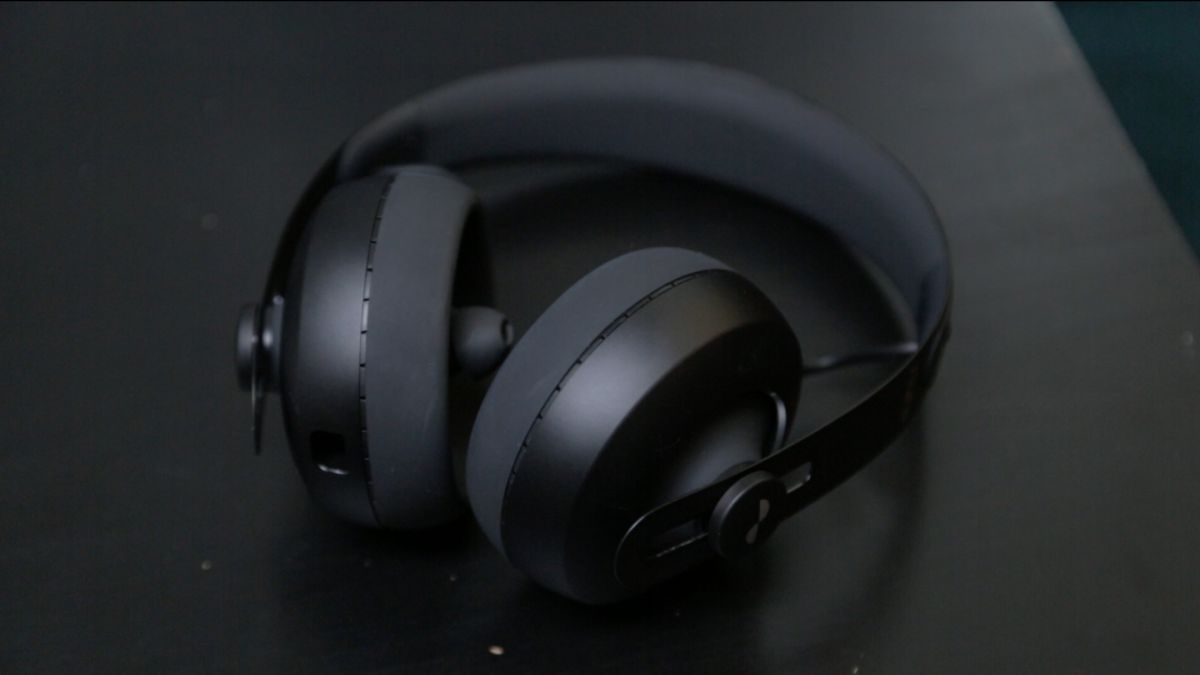 The Nuraphone is a combination of in-ear and over-ear headphones. Sound isolation is very efficient and sound quality is high. The thing that makes it stand out from all other headphones I had listened to in the B.N.* part of my life is that it can adapt itself to your individual hearing.
After putting it on first the first time, and connecting it to your iOS or Android device via Bluetooth, it examines what your hearing is like: The speakers have very sensitive microphones built in that detect the echo from sounds projecting back from your ear. It takes about a minute of fine-tuning while listening to various sounds, after which the app will have deduced your unique personal hearing profile. After that, you can also specify an "immersion" level which tells the phones how close to the sound source ("the stage") you want the sound to be. This can range from pleasant to pretty intense, at which instant you will feel your very ears vibrating. My frustration at not being able to get good headphones online, coupled with Nuraphone's no-questions-asked 30-day-money-back guarantee, made me close my eyes and take the plunge.
I ordered the headphones on a Sunday and had them in my hands that Thursday. And let me tell you, just unpacking the phones already filled me with expectation. Everything felt and looked luxurious, from the magnetic latch to the feeling of the enclosed USB cable. Everything literally radiated luxuriousness. It's what you'd expect at such a pice tag, though. I wasn't convinced yet.
I downloaded the app, connected Bluetooth and allowed it to determine my hearing profile. That took about a minute, as promised. From then on, the headphone always welcomes me back when I put it on – "Welcome back, Richard". A very cool touch. I like it! (In case you want to know, the headphones recognise whose head they are on, and it can store three people's hearing profiles.)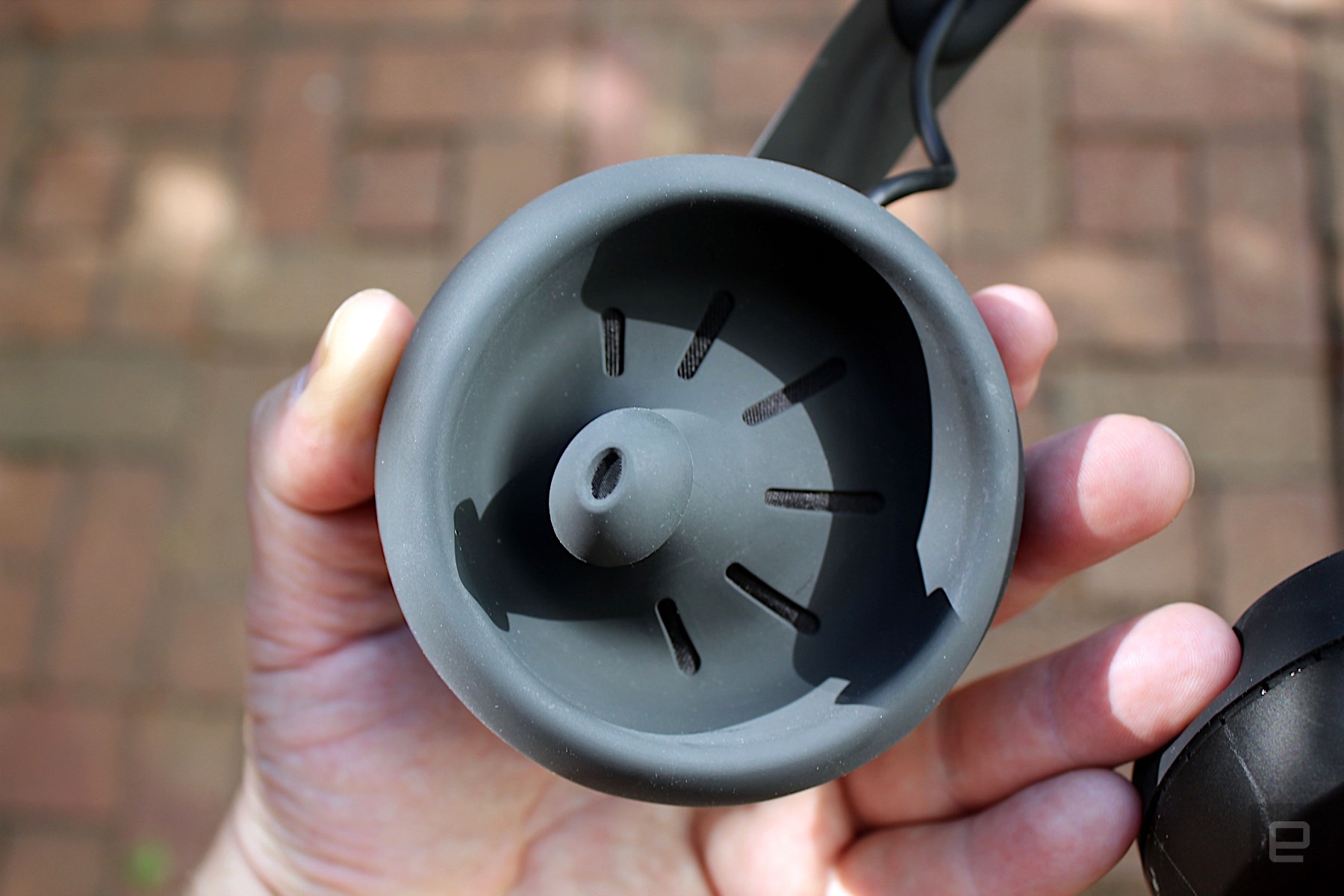 So next I wanted to listen to some music using these headphones. I had recently listened to the new Cradle of Filth album rather a lot. It now sounded so much heavier and full-bodied than when I used other headphones. Next I put on a Vangelis album, "Mask". I was utterly blown away by that! The crescendos were stupefying, sounding full-bodied and alive, three-dimensional. I don't recall ever having heard anything on my ears with such detail and dynamics. Existing music I've had for ages suddenly seems more preciously subtle and at the same time copiously overwhelming. Oodles of oomph! In fact I think I will be spending the next few weeks re-discovering some Vangelis, Jarre and Gandalf albums. "Antarctica" next! And then some metal/shred classics…
For more information, check out www.nuraphone.com (this link may give you a 20% discount, but I couldn't verify that). When ordering, also try discount code "welcomeship" for free shipping (which may save you quite a bit, as it's fast shipping from Hong Kong).
* B.N. = Before Nuraphone
The G2 Update (added 20 July 2018)
A few days ago I received an unexpected mail from the Nuraphone people (as I suppose all registered owners did) with information about a firmware update for the already quite wonderful Nuraphone, the so-called "G2 Update". I waited a few days, during which I read Tweets about how wonderful the update was. I was already very satisfied with this pair of headphones so I wanted to wait until potential bad news about adverse effects of this update became available. Well, it didn't, because these Nuraphone people appear to be right on the money.
The update includes features that make this high-end pair of headphones even more high-end, the most awesome of which is Active Noise Cancellation (outside noise is automatically compensated for by the headphones). The disadvantage of this is that people wanting to communicate with you while you're in the audio zone will have even more of a challenge (which usually irritates them no end, well at least I know it does hugely irritate my wife). The nice people behind the update must have realised this very fact, so they added so-called "Social Mode". This mode uses the built-in microphones to pass outside sounds on to your ears, which feels almost like you're eavesdropping on your direct surroundings. Peculiar but very effective.
Other features that have been added – less major but enhancing userfriendliness by leaps and bounds, include the touch buttons being programmable (immersion on/off, volume up, volume down, social mode on/off, as well as others), spoken battery level indication and easier switch between different Bluetooth devices to pair with.
The Nuraphone is the best set of headphones I have ever had the fortune to listen to music with, and it just got better. I am a well chuffed camper.