Those of you who have known me for a longer time, know that my first car was a Peugeot 205 GTI 1.9. I was very happy with that car, which I drove during my Thalion days. Since then I have had a few nice lease cars (the nicest was a Volkswagen Golf TDi), but the past 10 years my wife and I have bought various used cars where affordability was the most important factor.
Since last week we have been the owners of a Peugeot e208, and finally I feel like I've got a truly nice car again. The "e" signifies "electric", which is another step of ours towards a smaller carbon footprint. We recently also bought another house where we had solar panels installed. We do try.
Our previous car, a Chevrolet (=Daewoo) Spark 1.0 LS BiFuel, allowed us to use LPG, which was already better (and not to forget cheaper) than regular petrol. But we'd had it for nearly 11 years, and it had been second-hand to begin with: It really did begin to show signs of wear and tear in virtually all departments, so it had slowly become noisier and less realiable. Mileage also seemed to go down. In fact we mostly dared only to drive short distances of no longer than 50 kilometres.
I had been reading about EVs for a few years before deciding to make this switch. For a long time, I had thought of perhaps switching to a hybrid car, because you can always fill her up with petrol, and there are petrol stations just about anywhere. However, I did want to truly ditch dependency on fossil fuel (and, to be honest, the frankly ridiculous fossil fuel prices). I wanted to know if there were enough charging points? And how expensive would a home charging station be? I discovered that you just need to think ahead when it comes to longer trips, and a colleague of mine helped me install a regular wall socket charging point in the front outside wall of my house (thankfully we have our own parking spot) so you can use a home charging cable Type 2.
My wife and me briefly thought about a Tesla Model 3, and even the Jaguar I-Pace, but quickly considered our actual fairly modest transportation needs didn't need such an immodest investment. We – very briefly – considered the BMW i3, but decided we actually had too much taste to want to drive such an eyesore of a car. I then considered Nissan Leaf, Hyundai Kona, Hyundai Ioniq or Peugeot 208. These latter models were much more realistic options, financially. We decided to go for a test drive with a Peugeot e208 GT at a nearby dealership.
When we first drove it, we were struck by how comfortable it was. It was like driving on clouds. The accelerator pedal was also much more responsive than that of the Spark. A very good first impression! Optically, I have always been a big fan of Peugeot cars since I first saw the 404 in the late 70s (and of course my own 205 back in the late 80s). But this e208 GT looked great from the outside, and also had a beautiful wide screen information/entertainment system, 3D cockpit, and all the trimmings. I think we both kinda fell in love with it there and then.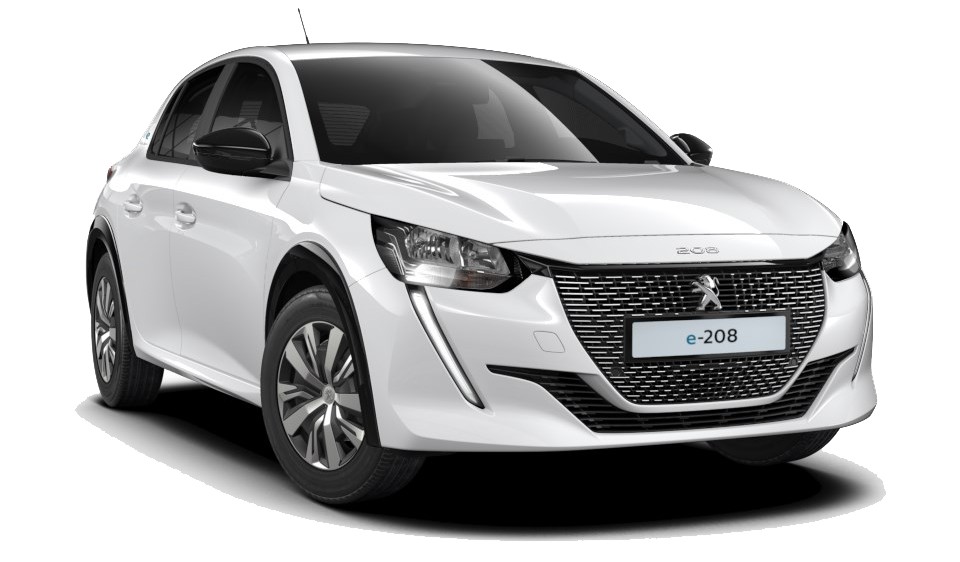 Next, of course, we found out that the GT is not exactly the most affordable type of 208. Because of the modest transportation needs mentioned above, we needed to go for a more modestly priced model, which ultimately became what is called the "Active Pack" version. This has the same battery and range as the GT (50 kWh battery, 362 km range), but features fewer of the trimmings (no rear view camera, for example, which is the only thing I kinda really miss, and the seat heating that my wife misses). Compared to the Spark, however, it is just friggin' awesome: Apple Car Play (including what I guess could be called screen casting of some sort, to use navigation), automatically retracting outside mirrors, fantasic-sounding stereo system, very modern styling…and did I already mention it's like driving on clouds? 😉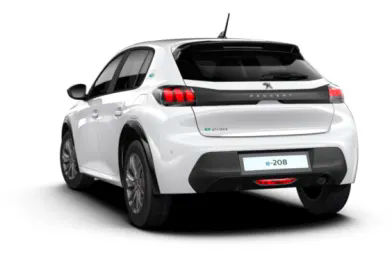 Driving an electric car – or at least driving this e208 – gives you much more feedback on your driving style. If you press down hard on the accelerator, you will see the range indicator going down too. So I think the 362 km range is more of a rough indication in ideal circumstances rather than what you can really expect to get out of it. If only the feeling of "Top Gun"-like excitement during accelerating wasn't so appealing! The e208 has 136 hp and does 0-100 km/h in 8.1 seconds. This may sound like peanuts to you, but we were used to 15.1 seconds in the Spark, and that was when switching to petrol instead of the even slower LPG.
So now we have our first electric car. In a few days I'll be driving my first bigger distance, from Gouda to Leeuwarden and back. That's more than the standard range will allow, so I have to admit a feel a bit anxious as to whether I can find a parking spot with charger, or may have to resort to a FastNed charger on the highway, and of course I've never done that before so the simple act of first charging is already a bit of a hurdle for me. No doubt I'll be sharing some more experiences here.
Added 22 April: FastNed charging was a breeze. There were different plugs, but only one fit the car. A full recharge was out of the question because (at this particular charger, near Winsum, at least) A) it was going to take 2.5 hours, and B) it was at least twice as expensive as at home. But charging it sufficiently to make it back home with about a 50-70 km margin took less than half an hour, so that was doable.
Added 5 May: I have in the mean time also used a regular (cheaper, slower) charging station near my stepmom's, and another in the city of Kleve in Germany. We have a subscription at the ANWB (the Dutch version of the German ADAC or English AA/RAC) that allows you to use a key tag with RFC chip to log onto such a device, and you get billed afterwards. Quite easy to use. One odd difference: In the Netherlands you need to use your own cable, whereas these devices already have a few different types of cables attached in Germany.
On the way back home from Germany I decided to try the max speed. I reached 152 km/h, but I am quite sure I hit some sort of software limit. Next time I go to Germany I will not use the car's "Eco" mode that has so far been activated.
Added 9 November: We've been to Germany a second time, and again there was some sort of software limit when reaching 152 km/h, even in "Sport" mode.