 WALDROCK - BURGUM, NETHERLANDS, JUNE 22 2002
Waldrock rules, and every year even more so. This year was the first with two performance locations, which means that there are no long pauses between bands, ergo you are totally spoilt for nearly 12 hours straight. This year the weather was good, too, which is always a tremendous relief. The memory of Waldrock 1998 still festers fresh in my mind, when the rain had been akin a sea with vertical slots in it. Thankfully the sun came out during the prime band of the day (and headliner), Dream Theater. But that's history. Waldrock does not only have an enviable history of spotless organisation and excellent bands, but there's also the present. And at present Waldrock is, IMHO, the best metal festival in The Netherlands. Just a shame that the parking fee seems to have been conveniently multiplied by 2.20371...
As per usual, Waldrock opens with local talent. Room No 13 was this year's Frisian band. They played solid but not very innovative metal. More interesting was the local opener for the 'tent' location, Autumn. I'd seen this band support After Forever and had been pleasantly surprised. They got people's hands together at Waldrock as well. I think this band may be going places.
Next on the main stage was British black metal sensation, Akercocke. And I say "black metal sensation" with a sense of irony, because I have still not been able to find anything positive to say about them. I bought their debut, listened to it several times, and then found myself unexpectedly happy when selling it at Ebay for 5 Euros. Maybe it's different if you see them in more intimate surroundings, but this was just a senseless load of noise. I decided to go to the toilet, the sound of which was a whole lot better.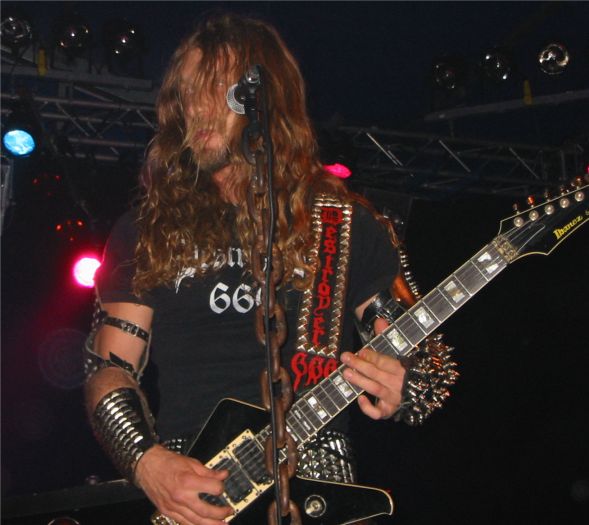 The tent next offered Destroyer 666, the Australian band that seems to have taken up residence in the Netherlands. They play thrash metal influenced by bands of the mid 80's. Quite enjoyable.
Waldrock 2002 was also the year of the 'old icons' as it were. With Agnostic Front, DRI and Motorhead there was plenty of music on offer for those of the older persuasion. Plenty of hardcore nostalgia on the main stage with Agnostic Front, up next. It always strikes me very odd that American bands can make angry music. They live in a country where there's enough food and enough freedom, but they might as well have neither for the anger they portray. I wonder what the first hardcore band from Ethiopia may sound like... Be that as it may, I am not personally familiar with Agnostic Front so I can't say much about them, nor about the next tent band, Overkill.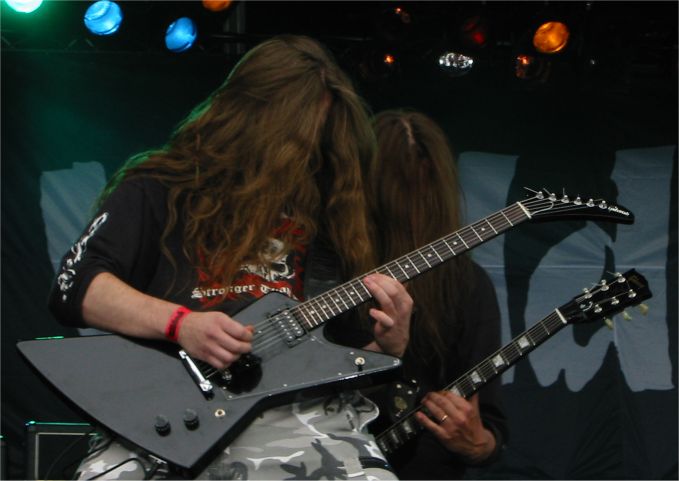 Hypocrisy took to the main stage and were the first band, so it seemed, that got the crowd really going. They played the classic tracks for their decade's worth of career with fervour, though it always seems that their second guitar player is not the most enthusiastic of men. They sounded good, they got the crowd going, and that's what matters.
A long time ago someone gave me a copy of Dirty Rotten Imbeciles' "Dealing with It". Late eighties, I guess that was. I seem to recall liking that tape quite a bit, however when the band played in the tent I discovered that I must have changed a lot since then... Which is about all that needs to be said here.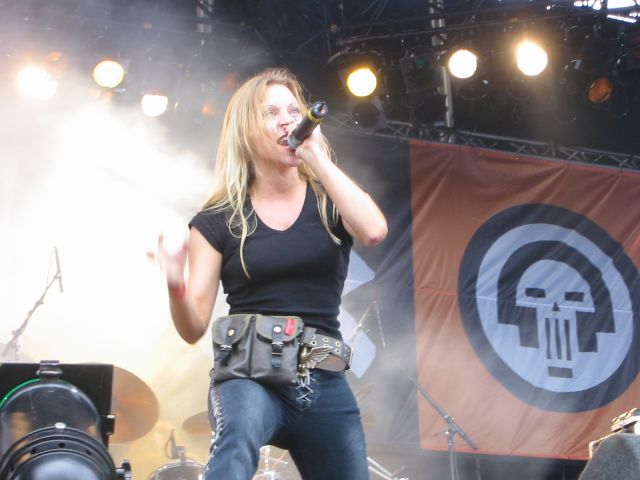 Having been exposed to a Sinister performance last year, I figured I'd be able to deal with the new Arch Enemy line-up featuring a female singer with a death grunt. But I have to say it still surprised me a great deal to see a rather petite girl, in between regular-voice song announcements, launch into death growls and sepulchral screams. The band treated us to three quarters of an hour of quality death metal, with Angela Gossow sounding menacingly convincing. No wonder she cites Chuck Schuldiner and David Vincent as influences...
After Forever, next in the tent, was pretty good again. Was it my imagination or did vocalist Floor falter with the longer high notes sometimes? The band was tight, as usual, and played their usual stuff: "Pledge of Allegiance Pt. 1", "Estranged" and several other tracks from their acclaimed "Prison of Desire" and "Decipher" albums. Recent new guitarist Bas Maas did really well, in fact he seems more at home on a stage then his predecessor ever did. They also played Iron Maiden's "The Evil that Men Do", which was a nice surprise.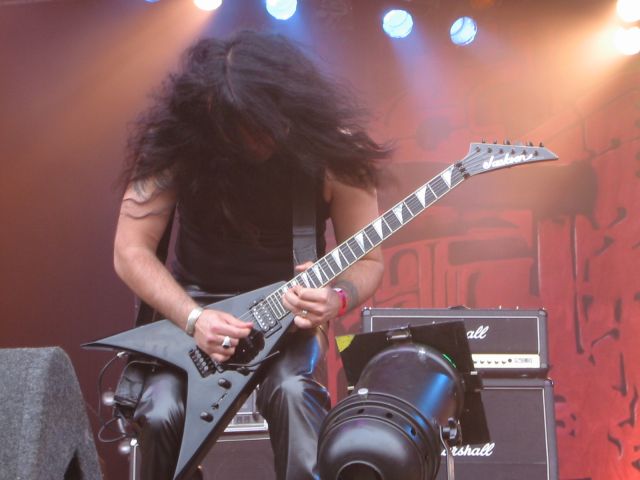 Kreator lost at least five minutes due to some sound problems at the beginning - second guitarist Sami Yli Sirnio's (?) guitar rig refused to produce sound. But once it did, they kicked off with "Violent Revolution" and ended with "Flag of Hate / Tormentor", with a variety of thrash classics in between - including "Pleasure to Kill" and "Servant in Heaven - King in Hell" (the latter from their latest album, "Violent Revolution"). This time the bassist seemed to be the guy having the least fun, but I don't think that prevented any from the many Waldrock attendants to have a genuinely thrashin' good time.
Next up in the tent was the fuck-up of the festival, Alec Empire. I'd never heard of this band, but later I heard it was the band of former Atari Teenage Riot guy, Alec Empire. They started late, Alec came across very arrogant, shouting "what the fuck?!" a lot and requesting for us to be ready when in fact the band themselves weren't. There was 20 seconds of total hardcore metal mayhem (and I mean this in a negative way) and then the power cut out. I took that as a cue to get the hell out and get some dinner. This stuff was so bad that it's not even worth trying to write witty remarks about. The sound effects / keyboards chick looked totally hot, but that can't save a band from being total Dixy material.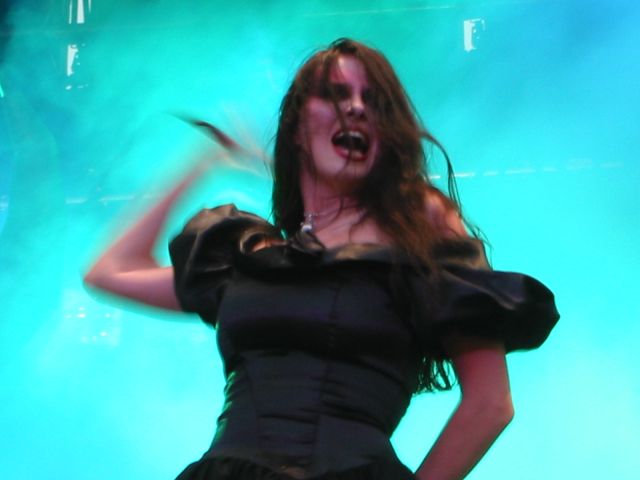 Imagine the contrast if you have Alec Empire and after that you get the angelic voice of Within Temptation's Sharon den Adel... What a heavenly relief. Ever since Within Temptation got their big break with the rather unexpected success of "Ice Queen", it's become all the rage among many people who liked their earlier material to start bashing them. Not me. Their music may be slightly radio-friendly, but it's really quite excellent and Sharon enchants me totally. The band obviously had a budget now, with inflatible cactusses, pyrotechnics and plenty of attention spent to the personal wardrobe. I also saw guitarist Robert had invested in a gothic Gibson Flying V. We got "Mother Earth", "Enter", "Caged", "Dark Wings", "Restless", "The Other Half (Of Me)" and several other songs, culminating in the excellent "Ice Queen". Sharon looked and sounded great (though she was way off on parts of one song), the band played good...this was not the most intimate, not the longest, but definitely one of the finest Within Temptation shows I've ever seen.
Headliner in the tent was Tristania. They sounded totally awesome, one of the best sounding bands of the day. That was, of course, not until after the sound guy discovered the 'on' switch that allowed the rest of us to actually hear Vibeke Stene's voice. Wow, that lady can sing! They played tracks right from their debut ("Widow's Weeds") to their latest ("World of Glass"). As with earlier appearances of them, the vocalist responsible for the clean sections didn't quite know what to do with himself. At least now he didn't climb into bits of the stage like he did some time ago at Graspop. Tristania absolutely ruled. By now, the Alec Empire experience had settled into the back of my brain in the "ready to be forgotten or otherwise blocked away" queue.
Headliner for this year's edition of Waldrock was Motorhead, the band that wanted to cripple us aurally, and just about managed. We got an hour and a quarter of classic and not too difficult rock'n'metal (or whatever), including "Ace of Spades", "Iron Fist", "Metropolis", a tribute to the Ramones, "Civil War", "No Class" and "Love for Sale". There was even a (superfluous) drum solo. The band totally played their asses off, Mikkey Dee played extremely tight. A worthy headliner.
(You're more than welcome to rip the pictures and use them wherever you want, however please credit Metal-E-Zine and add the www.metal-e-zine.com URL. Thanks!)
RK
Written June 2002
Go to the Official Waldrock site