 WALDROCK - BURGUM, NETHERLANDS, JUNE 30 2001
One of my favourite festivals is Waldrock, held annually in the North of The Netherlands. Although not exactly close to where I live (on a Dutch national scale, anyway), I try to go there every year (and fail occasionally). This year the weather proved to be pretty good, so off I went.
First band of the day was Spirit 84, the traditional local band. It was one of those jumping around kind of hip-hop bands, so my disinterest was quickly kindled.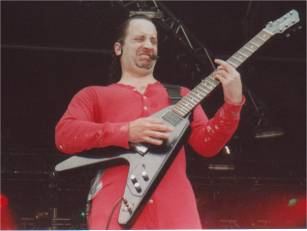 Macabre came next, playing their blastbeat serial-killer-inspired 'murder metal'. They played about 40 minutes of this, which was quite fun and entertaining. Macabre are good fun. Their drummer is really really fast and tight.
Dark Funeral, true hailers of Satan, had obviously been thwarted by one of the 'white' gods: Due to airplane problems they arrived quite a bit too late and in the end managed to play about 15 to 20 minutes of their black metal. They didn't impress me much, to be honest.
Fantomas was next, a project by former Faith No More vocalist Mike Patton, ex-Slayer drummer Dave Lombardo, and two others guys (from Mr. Bungle and another band of which I have quite forgotten the name). While I listening to their music one word formed itself to capture the essence of what they do. It's Dutch, and it's "KUT". I leave it up to you to guess what it means. It may be very difficult, it may be one of the most unpredictable acts, and the drumming may be phenomenal, but it's just, well, "kut".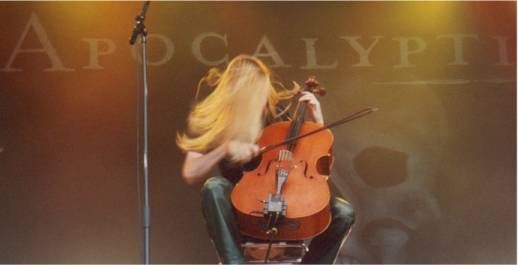 Apocalyptica was the first band that really got more or less everyone's hands together. Their act has grown to be a lot more dynamic when compared to what they did before, which enhances the entertainment factor. Their vocal presentation leaves something to be desired, but other than that they were impressive. Looking forward to seeing them again.
Opeth was just amazing. I really love the last two albums they did. It's extreme music alright, but at the same time very melodic and quite beautiful. I don't really recall what they played, but I think they at least did "The Drapery Falls" and "The Moor", as well as some stuff from "Your Arms My Hearse" that I don't personally know. Really good stuff, though perhaps it's better in a club setting. It was also the first time I saw genuine Paul Reed Smith guitars.
Devin Townsend, well, what do I say? I had heard really good things about this guy, all of which I found hard to be believe because to me he was the guy who totally spoiled Steve Vai's "Sex and Religion" with his screaming. He screamed a lot more at Waldrock, he played the guitar as well, the drummer more or less played the same tempo the whole time (I later read it was Gene Hoglan...), and basically it wasn't what I'd hoped. On top of that he launched constant abuse at the audience ("don't think we're having fun standing here, playing for you, we'd rather be asleep, jacking off, oh wait, you can't sleep and jack off at the same time..."). It might be a gimmick, I might be in earnest. One thing is for sure, I didn't like the music nor the presentation. It rained quite a bit for a while as well.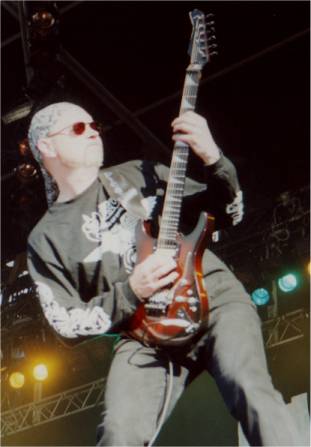 Saxon rules. Every time I see them I have a really good time. I guess that says more about me than about Saxon, and more particularly my age :-) Saxon played a lot of old classics, Biff cajoled a lot, and they also squeezed in a couple of new songs that got a bit of a lukewarm reception I'm afraid. They even played "Power and the Glory", which I'd never heard live before. Biff's voice is still really good, the band was in tip-top shape. Like I said, Saxon rule. Seen them three times I think, wasn't bored once.
Suicidal Tendencies are back and were as energetic and passionate as ever. Although I'd seen more or less exactly the same show one week earlier (at Graspop), it was again delivered with all the enthusiasm and energy needed. Excellent band, only the genre doesn't do too much for me. Had a good time watching Mike Muir entertaining though.
Biohazard, well, their hardcore kind of metal doesn't captivate me much, either. After two songs I decided perhaps it would be a good idea to beat the traffic jams and leave. Hence the total absence of an opinion about the headliner, Deftones.
Though this year's line-up initially didn't seem that impressive, it had been a most excellent day.
RK
Written July 2001
Go to the Official Waldrock site