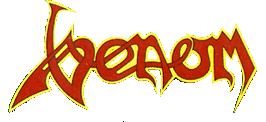 VENOM - THE FIRST THREE N.W.O.B.H.M. RE-RELEASES: "WELCOME TO HELL", "BLACK METAL", "AT WAR WITH SATAN" (SANCTUARY MUSIC)
About 20 years ago, Venom shocked the aural world with what, to today's standards, would be albums that barely make a dent in heavy metal butter. However, 20 years ago there was plenty of heavy metal but none of it was as unpolished and extreme as Venom's. Finally, these classics albums have been re-released, digitally overhauled, supplied with lyrics in the extended booklets, with bonus tracks to boot. Let's check out to see if they're worth it...
The "Welcome to Hell" (originally released 1981) remaster I didn't buy. It would be interesting only for the bonus tracks, these being "Angel Dust (Lead Weight Version)", the 7" versions of "In League with Satan", "Live like An Angel", "Bloodlust" and "In Nomine Satanas", as well as demo versions of "Angel Dust", "Raise the Dead", "Red Light Fever" and "Welcome to Hell". The 7" versions are, in all probability, identical to the ones you can find on "The Singles 80-86" (Castle 1986) or Sanctuary Music's double CD offering "In League with Satan". The demos (except "Welcome to Hell") are probably the same as those on "Skeletons in the Closet" (Castle, 1993). I personally didn't think it was worth it, also because the re-releases aren't low budget CDs but full-price efforts.
Click here to check out or buy this CD
Next up was 1982's "Black Metal", sounding meaner and more cohesive than its predecessor. The production was more up to par, too. You probably know the original so I'll concentrate once again on the bonus tracks. These start with "Bursting Out (60 Min+ version)" which is cool, following by "Black Metal", "Nightmare", "Too Loud for the Crowd" and "Bloodlust" from a Radio 1 session. These are quite excellent. Then you get so-called 12" versions of "Die Hard", "Acid Queen" and "Bursting Out". These are identical to those you could find on the abovementioned "The Singles 80-86". I've never heard different versions than these, and I haven't actually heard the 12", but these tracks seem a bit short to have filled up a side of a 12" single. Anyway, the final bonus track is "Hounds of Hell", also to be found on "Skeletons from the Closet".
Click here to check out or buy this CD
For the time being, the last re-release is "At War with Satan", originally released in 1984. Let's skip right to the bonus tracks here. There's some TV Adverts for the album (kindof silly and superfluous, and I think they were available on "Skeletons..." before), followed by a whole bunch of so-called 12" versions of singles: "Warhead", "Lady Lust", "The Seven Gates of Hell", "Manitou", "Woman" and "Dead of Night". I spotted something weird here, and the reason why I put "so-called" in the previous sentence. I know for a fact that the full 12" version of "Warhead" and "The Seven Gates of Hell" are longer than those on "The Singles 80-86", and the versions presented on this CD aren't. So I felt kindof cheated. These are not the full 12" versions. I can't judge it for most of the other so-called 12" tracks on either the re-released "Black Metal" or "At War with Satan" because I never heard the original 12" recordings. I only know that "Manitou" and "Dead of Night" in the versions presented here are actually quite a bit longer than the ones on "The Singles 80-86"- and might therefore actually be the only true 12" version on this album. Anyway, I'd never heard "Woman" before, so that was an interesting track to finally have on CD.
Click here to check out or buy this CD
So my feelings are kindof mixed. I feel a bit cheated with the 12" aspect of some of the tracks, and I would have loved these CDs to be half cheaper. But you can't get it all, I guess. While writing these reviews I noticed that CD Now actually sells these CDs at around $9 to $11, so that makes them very interesting.
RK
Added June 2003:
Some more research has in the meanwhile revealed that the tracks known as "Radio 1 Sessions" in fact made it onto several specific albums. The "Black Metal" version made it onto the 1985 "Speed Kills" compilation. "Nightmare" and "Bloodlust" made it onto the "French Assault" EP. "Bursting Out (60 Min+ version)" also appeared on "French Assault".
Written May 2002
Go to the Official Venoms Legions site