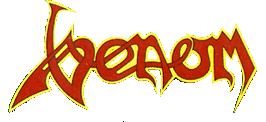 VENOM - "SEVEN GATES OF HELL: SINGLES 1980-1985" (SANCTUARY)
Castle/Sanctuary is milking Venom for everything they're worth, that's for sure. All classic Venom albums are being re-released, some of them with quite a few bonus tracks. On top of that, they released a double CD anthology nearly a year ago, plus they recently released "The Seven Gates of Hell: The Singles 1980-1985". Well, is this gazillionth release worth getting? Read on and see.
First of all, in the dim years long ago there was already a "The Singles" release of Venom. This new release contains the same, with a few exceptions: "Warhead" is now finally available in the 12" version (nearly two and a half minutes longer than the regular version). Although the extra bit is basically a lot of noise and atmospheric sounds, this is the first time the 12" version is available on CD (even though some of the other re-releases claimed it was on there as well). Also, "Manitou" is the longer 12" release, unlike on the original "The Singles" release. However, the "At War With Satan" re-release also had this longer version. Similarly, "Dead of the Night" is longer than the version on the original "The Singles" but the same 12" version is on the "At War with Satan" re-release. The original release did not have "Nightmare", "Satanachist" and "F.O.A.D.", and I seem to recall it didn't have "Woman" either. Well, these are all on this new version. Most importantly, however, you will find the "Hell at Hammersmith" EP on here: "Witching Hour" and "Teacher's Pet / Poison / Teacher's Pet Medley". These have not appeared anywhere on CD yet, as far as I know.
So, to make a long story short, yes, this CD is worth getting. However, it still doesn't contain the 12" version of "The Seven Gates of Hell" (even though it claims that it does). I wonder which future re-release will eventually contain that one.

RK
Written February 2003