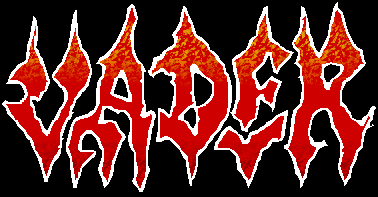 VADER - "REIGN FOREVER WORLD" (METAL BLADE)
Vader and me. We haven't come a long way yet, in fact I didn't really discover them until a month or two prior to "Litany". I have to say, however, that this is a clear case of sonic love at first sight. Some people say Vader is the only reason Death Metal isn't dead, and I tend to agree. Their guitars are mega-tight, Doc's drumming is super-human, Pjotr's voice sounds ideal for a death metal band, and as far as I've come to know them they seem to be pretty cool guys. Vader rules. Now how about their EP, "Reign Forever World"?
The CD consists of 3 new tracks ("Reign Forever World", "Frozen Paths", "Privelege of the Gods [sic]"), 3 covers (Destruction's "Total Desaster", Judas Priest's "Rapid Fire", Mayhem's "Freezing Moon"), 2 live tracks ("Creatures of Light and Darkness", "Carnal") and the 2 tracks that appeared on the Japanese version of "Litany" ("Red Dunes", "Lord of Desert"). The new tracks are about as good as and in general less compact than what "Litany" had to offer, with a production that is a little less powerful. The covers are well executed and faster than the originals, blowing back life especially in "Total Desaster". The live tracks are of less quality than those found on "Live in Japan", but still a faithful testimony to the raw power and energy that is Vader on stage. "Red Dunes" is a non-vital addition to the Vader catalogue in the shape of an instrumental of sorts, but this is followed by 2 minutes of mayhem in the form of "Lord of Desert" (excellent track, produced just like "Litany").
Did you notice that, if you remove a few letters and add a few, "Doc" spells "total f@*king drum fiend"?

RK
Written January 2001