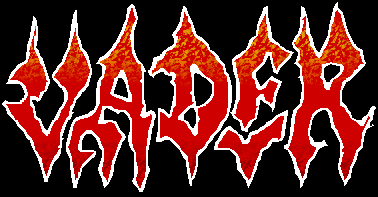 VADER - "REVELATIONS" (METAL BLADE)
Then death metal genre is not dead, though it's been faltering at times. It's bands like Vader that manage to virtually single-handedly keep it alive and kicking with album upon album of very intense music. They have their own distinct style and recognizability (which some might describe as 'same-ish-ness'), but it's always full of energy, cool riffs and drumming that you could synchronize an atomic clock to.
"Revelations" is, basically, not an album that will launch Vader straight into the metal innovators hall of fame. Then again, that's hardly what we want. We want Peter's deep growl, their insane riffs and Doc's aforementioned rather very OK pounding. There is little change in style, though sound-wise in particular the drums are much, much less in your face than those on "Litany". The lyrics are as grammatically silly as Dimmu Borgir's, but then again that's not really what you want from Vader either. The album lays down an aural carpet that takes almost 34 minutes to traverse. The tracks vary slighty in their degrees of excellence, though "When Darkness Calls" (with more than an occasional musical reference to Slayer) and "The Code" are tracks that justly deserve to be labelled "excellent". The album closer, "Revelation of Black Moses", is almost an epic by Vader standards, clocking at about 7 minutes. It also features some very atmospheric guitar work around the middle, though it has to be said that Peter's tap-like-hell-and-yank-the-whammy solos are quite efficient throughout the album.
"Revelations" could well be 2002's best death metal album. We'll see what the competition offers for the rest of the year.

Click here to check out or buy this CD
RK
Written April 2002