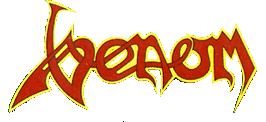 VENOM - "IN LEAGUE WITH SATAN - 2CD ANTHOLOGY" (SANCTUARY MUSIC)
I bought this double CD because it has "Nightmare" on there. As far as I know, this is the first time the original "Nightmare" single is available on CD. The rest of the CD, I figured, would be a turbo replacement of "The Singles 80-86 (Castle 1986). But when I put on the CD it turned out to be a veritable mishmash of various Venom tracks. There's a few alternate versions and, of course (and unexpectedly) a few tracks with Mr. Tony Dolan on bass/vocals instead of good old Cronos. Sadly, the booklet fails to mention any specific details. So the below remarks will be correct to the best of my knowledge - and because I am not much of a post-Cronos Venom buff, there's gaps in my knowledge there.
The first CD kicks off with the Venom 83/84 intro tape (previously available on "Skeletons in the Closet", Castle 1993). Then we get "In League with Satan" and "Live Like an Angel, Die Like a Devil" in their "Welcome to Hell" versions. The title track from Venom's earth-shattering debut is represented here by a much cooler sounding, faster version that I don't know the origin of (but at least it's got Cronos). "Poison" follows, from "Welcome to Hell". Then we get a very fast live version of "Witching Hour" with Tony Dolan, the original "Welcome to Hell" version of "One Thousand Days in Sodom", then again a very fast live version of "Angel Dust" with Tony Dolan. "Bloodlust" and "In Nomine Satanas" are the original tracks again (from the "Bloodlust" single). Up next is "Venom Radio I.D. One", which is silly and superfluous, followed by "Black Metal". But it's not the "Black Metal" you know and love, rather it's a live version with Tony Dolan that only lasts the first 45 seconds, right up to "Lay down your souls...". "To Hell and Back" is the original "Black Metal" track again, which is followed by "Buried Alive" and "Teacher's Pet", both live and apparently from the same show, both with Tony Dolan. "Teacher's Pet" ends chaotically, and most of the track is just not played. "Heavens on Fire" is original again, followed by the live "Countess Bathory" version previously available on "The Best of Venom - In Memorium" (Music Club, 1993). This one has Tony Dolan playing on it again, but the intro is actually pretty cool. "Die Hard", the track after that, also features Tony Dolan. I think it may be from "Kissing the Beast" (Disky, 1993), but I couldn't be bothered to check because I hate that CD. "Acid Queen" is a 'real' version again (from an original 7", I suppose), and "Bursting Out" (again Tony Dolan, again very likely from the "Kissing the Beast" CD) wraps up the first CD.
The second CD starts with the 85/86 intro tapes, following by "Warhead", "Lady Lust" and "The Seven Gates of Hell" (versions identical to those on the "The Singles 80-86" CD). Then we get one of the "At War with Satan" TV IDs such as were present on "Skeletons..." and the "At War with Satan" re-release (Sanctuary, 2002), followed by the original "Rip Ride", "Genocide" and "Stand up and be Counted" versions from that album. Then another "At War with Satan" TV ID, as well as a track truly deserving to be present on any "Venom greatest tracks" compilation, "Aaaaarghhh". Hm. Well, I guess they wanted to make sure the Tony Dolan tracks weren't the worst :-) "Manitou", "Woman" and "Dead of Night" follow, all original versions from the singles. "Nightmare" is there in all its glory. After listening to the earlier tracks I feared they might somehow have managed to put a live turbo-speed Tony Dolan version on this CD, but thankfully it's genuine. "Satanachist" off "Possessed" is the real thing as well, as is "F.O.A.D." (the B-side to "Nightmare", and only slightly more serious than "Aaaaarghhh", available here for the first time on CD I think). The final tracks on this second CD are all original and from "Possessed": "Moonshine", "Wing and a Prayer" (the only Venom instrumental, as far as I can recall, not too bad at all), "Possessed", "Powerdrive" and "Burn this Place". Another silly radio ID is thrown in as well.
I get the distinct impression that Sanctuary Music wants all prospective buyers to think that this is all classic Venom, played by the classic Cronos-Mantas-Abaddon line-up. There are no tracks present that were written by any of the other Venom incarnations. In that case they should not have used any Dolan-ized versions. Or were they perhaps unaware? Whatever the case may be, this CD is not the cool collection of true Venom tracks I had hoped it would be. But it's definitely on its way, and the "Welcome to Hell" and "Nightmare" versions, as well as the presence of the somewhat rare "F.O.A.D.", make this about worth while buying.
I really dig Venom and I thought I knew just about what I needed to know in order to write this review with the right kind of background knowledge. However, this jumbley collection of tracks has rocked my confidence in this matter on its very foundations. If any of you out there know more about the things I have written, or if you can correct information above, please do not hesitate to contact me (my email address can be found in the 'thanks' section).

Click here to buy or check out this CD
RK
Written May 2002
Go to the Official Venoms Legions site