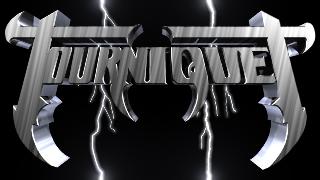 TOURNIQUET - "WHERE MOTH AND RUST DESTROY" (METAL BLADE RECORDS)
I vow I will attempt very much, try my hardest, not to go on any anti-religion rants within the confines of this review. Even though those (beep)ing mother(beep) (beep) !*@ (beep)... um.
Tourniquet have once again released an excellently produced and much varied album, this time entitled "Where Moth and Rust Destroy". It is filled with cool songs, just like on their previous effort ("Microscopic View of a Telescopic Realm", 2000). The main difference is that the music is more varied (cut)
I HATE IT WHEN RELIGIOUS FANATICS TRY TO STUFF DOWN YOUR THROAT THEIR IDE(CUT)
(sorry)
...and its level more consistent. Where "Microscopic View..." tended to have too much music, some of which was just not interesting enough, this time Tourniquet seem to have favoured somewhat more concise songwriting at a steady high level. There are no weak moments on tjhe album at all. "Drawn and Quartered" and part of "Convoluted Absolutes" (cut)
MY OH MY THEY HAVEN'T ONLY SWALLOWED THE BIBLE BUT ALSO A WHOLE SHELF FULL OF DICTIONARIES, THOSE SELF-RIGHTEOUS B(CUT)
(sorry again...really)
...harken back to their previous album, whereas some of the other tracks show a side to Tourniquet I was previously unaware of. "Healing Waters of the Tigris" is at times almost a speed metal track with eastern scale influences, whereas it is tempting to classify "In Death We Rise" as a doom metal instrumental, violin and all. A bit of a weird track is "Architeuthis", which sounds like an instrumental track clumsily hewn in two with a vocal song inserted in the gap.
"Where Moth and Rust Destroy" is probably the Tourniquet album with the best guitar work on it. Marty Friedman (ex-Cacophony, ex-Megadeth) and Bruce (Tool) Franklin have done some ace guitar work here and there, adding to the unmistakable talents of Ted Kirkpatrick as drummer and main songwriter.
If you can stomach the scream-preaching (cut)
STUFFING IDEAS STUFFING VIEWPOINTS STUFFING DOCTRINES DOWN YOUR(CUT)
(hmm)
...vocal parts, which to the average extreme metal lover must sound like Dani Filth to The Three Tenors, what you got here is a great metal album. To use the words of the Doobie Brothers, listen to the music, and ignore the message. And, well, if you're one of the religious persuasion (cut)
ONE OF THOSE PEOPLE WHO CAN'T THINK FOR HIMSELF, WHO FOLLOWS OTHERS LIKE A SHEEP, WHO NEEDS RELIGION TO FIGURE OUT WHAT IS GOOD AND BAD, WHO(CUT)
(...)
...then that's two flies in one blow, innit?
Disclaimer: The viewpoints on religion portrayed in this reviews are those of the author, not necessarily of Metal-E-Zine. Never mind if the editor who adds these kinds of messages is one and the same person. 'Hidden' in the above review you will find two links to two of the scariest sites I have seen in years. I kept wishing I was looking at religious spoof sites, but I am afraid these guys are for real. Geez.

Click here to buy or check out this item
RK
Written February 2003
Go to the Official Tourniquet site