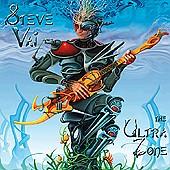 ERIC SARDINAS AND STEVE VAI
DE VEREENIGING, NIJMEGEN, NETHERLANDS, 7 MARCH 2000
It is remarkable how few gigs have etched their way into my memory as 'truly memorable and unique happenings', despite having been to quite a few. Metallica's "...Justice" tour, Queensryche's "Empire" tour, Rush' "Show of Hands" tour. Satch's "Flying" tour. Kiss' pre-"Psycho Circus" reunion tour. Maybe one or two more.
Steve Vai's show at De Vereeniging in Nijmegen qualifies, too, and does so amply. Everything was perfect: The show, the musical craftsmanship, the sheer professionalism, the band, even the audience.
I had expected one of those 90-minute shows where you constantly have your jaw on the floor, where smart lick upon smart lick is hurled at you, where the other band members were mere props that you happen not to be able to do without.
In short, I had expected an Yngwie show. As it turned out, I wasn't even close enough to smell the cigar.
Although Steve was unmistakably in charge of things, I was surprised at how much space was given to the other musicians (even www.daveweiner.com), the sympathetic Mike Keneally in particular, to shine. Remember, I was used to seeing wallpaper musicians in the vein of the dozen or so drummers, singers and bass players that some Guitar God bands tend to see come and go.
Come to think of it, I think I wasn't even close to the same planet that the cigar leaves were grown on!
What we got was almost *two and a half hours* of amazingly well-executed and passionate music (most of which, obviously, centred around the guitar), with plenty of audience interaction and Zappa-esque humour interspersed.
Of course, what contributed to the general climax of the evening was the afternoon that went before: Getting my guitar signed, discovering that this, well, near-legendary guitar wizard was a really down-to-earth guy; being admitted with about half a dozen other guitar-toting fans to the soundcheck (here it has to be said that Go...I mean, Yngwie, is also really kind to his fans, I will not tolerate anyone saying anything to the contrary). During the sound-checking we were already treated to a seemingly effortlessly executed version of "Fever Dream" on the famous triple-neck heart-shaped guitar, as well as a few pieces that weren't played that evening.
At 20:00, however, there was time first for the support act, Eric Sardinas, sometimes billed as "the blues band Satan would love." Although the rest of the band were laid-back (and I'm using a polite description here), Sardinas delivered his low-down, rough, dirty blues all over the place, sliding and picking hell out of his battered-looking metal guitars. All show, and with the music to match. Well, almost, anyway. He surely managed to warm up the crowd and got a really good response. I, too, was pleasantly surprised by the flashy and wild blues that just kept coming.
Steve Vai and band took to the stage somewhen after nine. Steve - who was to change clothes several times throughout the show - came on in a futuristic-looking outfit reminiscent of the cover of his latest album as he launched into "Here I Am". Sound was excellent despite a few technical problems here and there. Even the volume was just right - no earplugs were needed. We were treated to a variety of songs from his solo albums (though none off "Sex and Religion", which I can't say I minded), including "The Blood & Tears", "Jibboom", a really cool and funny "Voodoo Acid", "Windows to the Soul", "The Crying Machine", "Little Alligator", "Aching Hunger", "Liberty", "Erotic Nightmares" and a Vai-esque version of a Led Zeppelin classic. I think they also played "Greasy Kid's Stuff", "The Ultra Zone" and "Frank", but I'm not sure there. A broken string in the "Taurus Bulba" section of the "Fire Garden Suite" lead to an improvised couple of moments of additional band introduction and musical fun, and of course there was one of quite a few climaxes in the heart-shape of "Fever Dream".
I can't remember where the actual show ended end the encores started. I quite lost track of time, I have to say. At any rate, "For the Love of God" was the awesome climax I had anticipated. My eyes glazed over and I was for a moment lost in a world where everything is perfect and Steve Vai does a headlining tour of Europe for every album. The grand finale included a wild quartet of guitars on stage: Keneally, Vai, Weiner and Sardinas (this time wearing cool platforms :-), grinning their faces in two, having good fun, and the audience literally just eating it up. Despite deafening cries for more, the band didn't return for a second time. I don't think, however, that we could in any way complain about that.
It had been an evening not just for the guitar fans, but for lovers of good music, laughs, and people who want to be entertained as well. Obviously, some of the qualities of Vai's numerous former employers must have rubbed off on him, most notably Frank Zappa.
I believe, and I am quite serious here, that this is one of those shows that has in a non-minor way affected the rest of my life, at least the musical side of it. This show was the first one since May 1988 (when, aged 20, I went to my very first rock concert, Rush promoting "Hold Your Fire") that had my foot tapping for days afterwards, my inner ear still hearing the songs. Additionally, it has improved enormously my general esteem of Steve Vai.
Will definitely have to check out Mike Keneally, too.
RK
Written March 2000
Go to the Official Steve Vai site