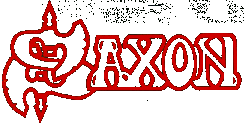 SAXON - "KILLING GROUND" (STEAMHAMMER)
Saxon have been around for so long...since 1979 or something. Vocalist Biff Byfford has been screaming his nuts off for well over 20 years now, and his voice is still as strong as ever. I saw them live a week or two ago and was very impressed. The cool thing about gigs with these 'old bands' is that the audience is also a lot older and much more relaxed. Quite a difference from the pubescent, angry-seeming, fashion-conscious, crowd-surfing, hey-look-i-am-beaucoup-cool audiences you find at Dimmu Borgir or Cradle of Filth shows, to name an example.
Saxon released "Killing Ground" not too long ago, hailed as their finest album in years...which it might very well be, because I haven't exactly kept in touch after "Power and the Glory" (1983), with the exception of the rather excellent "The Eagle Has Landed Part II" double live album (1996). Anyway, there's still a market for bands singing about heroes, soldiers, motorcycles and other stuff like that. In fact the market seems to be re-burgeoning, and I don't mind that it does. It helps, obviously, that these Saxon guys seem to be genuinely nice blokes. I might not want to offer my right arm for a pub brawl with Biff, but I might conceivably take the next day off for it :-)
Well, is "Killing Ground" any good? Well, it is, rather. The title track is a great show-opener, followed by the King Crimson cover "Court of the Crimson King", incidentally the finest track on the album. "Deeds of Glory" and "Rock is Our Life" are energetic metal anthems that go down well. "Shadows on the Wall" (about Hiroshima) features some distorted singing and synth, which make it the odd one out, but isn't bad at all. The remaining tracks are rather less spectacular, and "You Don't Know What You've Got" is kindof cheesy. All in all, this makes "Killing Ground" a pretty good album, but then again none of the earlier Saxon albums only had great tracks on it yet they're considered classics anyway. "Killing Ground" is, as far as I'm concerned, another classic from one of the coolest, nicest, most metal bands in the world.
The bonus disc that comes with the limited edition double-digipak features 8 re-recorded classics (you can probably predict which ones). A very interesting bonus, though I later read that Saxon are going to release a full re-recorded classics album in 2002 with 15 or 16 tracks. So don't get the rather expensive double CD version, get that future CD ("Heavy Metal Thunder" it should be called) when it's released. The re-recorded classics sound like they've been recorded with technology that's grown 20 years (which it has), and with minor variations due to the band only having 2 of the original members left (the others are trying to rip off audiences world-wide by performing Saxon cover gig kind of things).

Click here to check out or buy this CD
RK
Written October 2001
Go to the Official Saxon web site