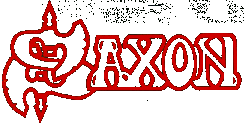 SAXON - HEAVY METAL THUNDER (SPV)
Last year Saxon released their rather excellent "Killing Ground" album. Some people say Saxon have ceased to be relevant to today's world of metal, however I think that album did give some support to those staunchest of Saxon defenders. A limited edition double CD version with a bonus CD of re-recorded classics was released and duly reviewed by yours truly. I was a bit disappointed to hear that those exact same re-recorded classics would all appear on the forthcoming album, "Heavy Metal Thunder", consisting solely of such re-recordings.
Well, obviously I bought that album as well. On top of the 8 re-recordings found on that limited edition version of "Killing Ground", there are 5 more: "Heavy Metal Thunder", "Power & the Glory", "747 (Strangers in the Night)", "Never Surrender" and "Backs to the Wall". Also, there's a second disc with 5 live tracks and a video clip.
Back to the first disc for a bit. Biff's voice sounds somehow 'compressed' on some tracks, most notably on "Heavy Metal Thunder". There is not much of the power that I associated with him. Also, the drumming seems lacklustre throughout (kick-kick-snare or kick-kick-kick-snare, ad nauseum, with the odd drum fill here or there). Production is superior to the 80's original recordings, obviously. The selection of tracks is also just right - there's all the tracks you know and love.
The bonus CD live tracks are OK, and for those with only the two "Eagle Has Landed" live CDs there's live versions of "Broken Heroes" and "Dragon's Lair" that make them interesting. However, the production is very weird, unbalanced, with the vocals too loud. Aforementioned live albums are much superior. As to the video clip, it is actually various live video bits put under the soundtrack - you can spot them playing no solos when there are solos going on, and when there's solos going on there's just chord work visually. It just confirms my opinion of Vanessa Warwick, who is credited with the video: She had, has, and probably never will have a clue.
All in all, not exactly the most essential CD for the fans. However, their upcoming tour I will certainly attend!

RK
Written December 2002