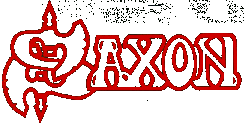 SAXON - "BBC SESSIONS / LIVE AT READING FESTIVAL '86" (BBC/EMI)
Saxon was one of the first heavy metal I learned to appreciate after my initial dabbings with Kiss and Deep Purple. To this day, their live albums "The Eagle has Landed" and its sequel rotate with regularity in my CD player. The BBC seems to be digging through the vaults of old recordings these days, and while digging they stumbled on a set of three recordings by Saxon. Stemming from 1980, 1982 and 1986 cuts, "BBC Archives / Live at Reading Festival '86" is the result.
I had expected perhaps more of a live atmosphere. Alas, 8 of the 14 tracks were recording without any audience interaction and sound a bit drab. The most interesting recording here is "The Eagle has Landed" (the song), written several days before, with a different vocal melody. The Reading Festival tracks rescue the album by featuring good atmosphere recordings including "Wheels of Steel", "Rock the Nations" and "Power and the Glory".
Quite a few other recordings are expected to arise from the BBC vaults. These CDs - including this Saxon one - are really reasonably priced which maybe be the one thing that makes them attractive. At least "BBC Sessions / Live at Reading Festival '86" adds preciously little to the existing Saxon catalogue. All I want now is a midprice CD release of "Power and the Glory"...

RK
Written October 1998