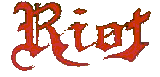 RIOT - "SONS OF SOCIETY" (METAL BLADE)
In their 23-year history, which saw the release of 11 studio albums, 2 EPs and 3 live albums, Riot's history has been, um, riotous. Well, sortof. Only remaining original member is founder Mark Reale; former singer Rhett Forrester is shot in Atlanta some time ago; they even had a former member surnamed Lemming!
The line-up on "Sons of Society" is the same as on "Jawbreaker", "The Brethren of the Long House" (with the exception of John Macaluso, who drummed on this album) and "Inishmore". It seems that the line-up stability has worked in their favour: "Sons of Society" is a well-written, well-produced, balanced album. As opposed to much of today's music, the members of Riot know how to play their instruments - I was especially impressed with drummer Bobby Jarzombek. Mike DiMeo is not my favourite vocalist, but he fits the music quite well. It's just that the bits in between the sung parts are more interesting, musically. Climaxes on the album are "Somewhere", "Snake Charmer" and "Promises", and there's even a rather good ballad in the middle - "Cover Me". Riot's music is pretty much adult-oriented, so if you don't like the occasional vocal harmonies and multi-voice choruses, perhaps you'd better not touch this.

RK
Written August 1999