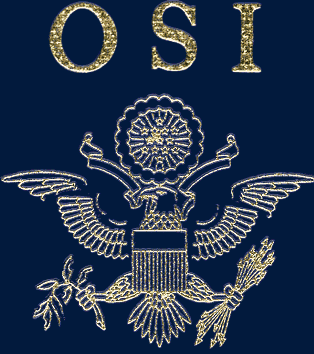 OSI - "OFFICE OF STRATEGIC INFLUENCE" (INSIDE OUT)
After Liquid Tension Experiment, OSI was probably the project with the highest expectations for those who are into what it referred to as "prog rock". Dream Theater, Fates Warning, that kind of thing. OSI is a project type of band featuring Jim Matheos (main songwriter and guitar player in Fates Warning), Mike Portnoy (drummer of countless project bands, but primarily of Dream Theater of course) and Kevin Moore (keyboard player formerly of Dream Theater, currently of Chroma Key). You can imagine Dream Theater fans of the first hour hoping that this would be a reunion of Mike and Kevin, songwriting-wise, continuing where "Awake" had left off.
As it is, of course, OSI sounds preciously little like Dream Theater. Thankfully that wasn't what I had been expecting, either, or else I think I might have liked the album a great deal less. What you get is a band that sounds a little like contemporary ("Disconnected" era) Fates Warning with quite a bit of Chroma Key thrown in (or so I'm told). So you get some samples, loops, laid-back vocals, soundscapes and the odd moment where there's rock going on.
"The New Math (what he said)" is the opening track and my favourite, too. It is the most rocking track, with a very cool riff. "OSI", the second track, continues in that vein, but with less balls'n'chunks. The remainder of the tracks are less rock-oriented, and not necessarily for the fainthearted. These are the kinds of tracks that you will gradually learn to appreciate more and more, a song like "Horseshoes and B-52's", for example. "Head" rocks a bit again, though I like the more 'relaxed' moments rather less. "Hello, Helicopter!" caused me to write "bah, too soft, acoustic" in my notes, which as far as I am concerned still covers the track pretty much. "shutDOWN" is the longest track on the album, kindof epic, which has its stronger and weaker sections. Parts of the vocals are reminiscent of Suzanne Vega or The Bangles, I can't quite put my finger on it. "Dirt from a Holy Place" is a good instrumental again, followed by "Memory Daydreams Lapses" which concentrates rather too much on atmosphere instead of groove. "Standby (looks like rain)" is the closing track, which is again acoustic and, well, I can't find another word that covers it better, wimpy. In fact, most of the vocals by Kevin Moore lack conviction in the delivery department. The good news is that this probably means I don't have to invest in any Chromakey albums...
Highpoint of the album, from start to finish, is Mike Portnoy's drumming. It's quite different from anything you may have heard before, mostly very subtle but always there, present. Good.
The limited edition 2CD version contains three more tracks plus a "documentary of the recording" multimedia part. The music contains "Set the Controls for the Heart of the Sun" (Pink Floyd cover) and "New Mama" (Neil Young cover), each delivered in the OSI style of atmosphere, um, to use the words of Terry Pratchett, "with rocks in". "The Thing that Never Was" is a 17-minute instrumental. This is the original of what eventually turned into several of the separate songs on the first disc. Interesting to see how the creative process works.
I am convinced that this CD will grow on me even more. It started out, upon first listen, as the kind of CD that I end up flogging on Ebay. After a few times I started appreciating it more, and right now it's somewhere between 3 and 4 bullets. So I'll go for the 4 that it will probably end up getting, especially because I haven't yet even given it 'the headphone treatment'.

Click here to buy or check out the limited edition 2CD version
Click here to buy or check out the regular version
RK
Written February 2003