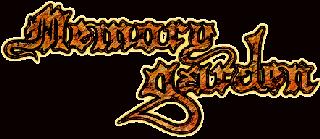 MEMORY GARDEN - "VERDICT OF POSTERITY" (METAL BLADE)
"Verdict of Posterity" is the second full-length CD by Memory Garden, after some demos, EPs, a mini CD entitled "Forever" on the small Heathendoom label, and their full-length debut "Tides".
Memory Garden combine doom with power metal, but in that combination lies a weakness. The music is a bit too happily up-tempo to be true doom, and too doomy to be considered power metal. Lead vocalist Stefan Berglund, with a very characteristic 'clean' vocal style, is the next hurdle the listener has to take. He really takes a few listens to get used to, and then you have to play the album several times to let the actual music grow on you. After due investments, however, "Verdict of Posterity" proves to be a fine album with good tunes, although the closing tune, "Amen", is wasted entirely on me. Stefan's singing...I cannot put my finger on it, but on that track I think he's somehow 'off'. Still, even without that song there's about 45 minutes of quality music on "Verict of Posterity".

RK
Written October 1998