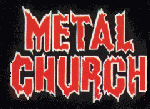 METAL CHURCH - "LIVE" (SPV)
With a reunion album of the original Metal Church line-up forthcoming, perhaps it was logical that a live album should be released to warm things up a bit. Rumours insisted on a double album, but alas it's just a regular one.
Recorded during various "The Dark" tour gigs, 10 songs have been taken from the set and repaired somewhat by Kurdt Vanderhoof himself. What appears on the CD is a testimony to what Metal Church was at the peak of their career. There is plenty of energy, and arch-vocalist David Wayne's throat is just about the most perfect one imaginable in a heavy metal band. Unfortunately, one very specific ingredient is lacking: Metal Church's ton-o'-bricks heaviness. I always used to think of the first three Metal Church albums as some of the heaviest ever recorded, but this is sadly lacking here. The album sounds too clean, the drums in particular. Those equipped with a DSP CD player will appreciate the effect of a 'jazz club' setting, such as I do. And the guy who did the artwork should be banned from ever doing it again.
Be that as it may, we do get energetic performances of classics the likes of "Gods of Wrath", "The Dark", "Watch the Children Pray", "Beyond the Black" and even the Purple cover "Highway Star".

RK
Written November 1998
Go to the Official Metal Church Home Page