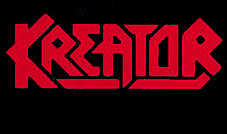 KREATOR - "LIVE KREATION - REVISIONED GLORY" (SPV)
"Live Kreation - Revisioned Glory" is Kreator's latest effort to appease the fans of old and new alike. Available in three versions, I this time opted for the most lavish one - a DVD with double live CD.
The band have recorded about half a dozen concerts during their 2001/2002 World Tour, the result of which can be found on both DVD and CD. The DVD offers about 90 minutes of professionally shot footage, which is long enough as Kreator needs to capture you by their music only. There is preciously little going on in the way of amazing musicianship or pyrotechnics and stuff, though the DVD does reveal that Sami is a capable solo guitarist. The double CD offers five tracks additional to those on the DVD.
Sound-wise both the DVD and CD sound excellent. The DVD also offers a 55-minute Kreator history, which includes interesting archive live bits as well as all their videos. The DVD menu is well designed, but the special features (apart from aforementioned history) aren't too lavish. Seven minutes of lesser quality live shots ("Flag of Hate" and "Tormentor" at With Full Force) and 2+ minutes of "Making of", and that's it. I had personally hoped for their "Extreme Aggressions" tour Berlin live video to be included, but I guess I am just spoiled what with some other DVDs offer in that department.

Click here to buy or check out the DVD
Click here to buy or check out the CD
RK
Written June 2003
Go to the Official Kreator site