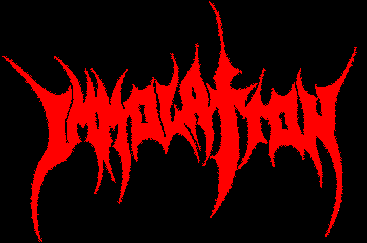 IMMOLATION - "UNHOLY CULT" (LISTENABLE RECORDS)
After seeing Immolation play at December 2002's "X-Mas Metal Fest" in 013, Tilburg, Netherlands, I simply had to get their latest offering, "Unholy Cult". I hadn't heard about the new release yet, probably because they'd swapped labels (from Metal Blade to Listenable Records).
I am tempted to say "Unholy Cult" is a smidgen more accessible than the albums that came before, but that's only because quite a few of the riffs are more memorable. It is still very technical, very difficult to headbang to, and very, very heavy with extremely dark vocals by bassist/growler Ross Dolan. Maybe one of the reasons why the album sounds more accessible (even if it's that aforementioned smidgen) is its production. No matter how impressive their previous two albums were, the effect was always dulled a little by a production that wasn't quite up to the highest standard. "Unholy Cult" definitely scores higher on this aspect.
Apart from crazy riffs and nigh un-headbangable rhythm changes, the album contains guitar solos played with the wild chromatic kind of abandon typical of death metal, the kind that would make anyone with a sense of scales squirm. But hey, isn't that what progressive death metal is all about?
Immolation isn't quite as hectic as Cryptopsy, but all the more enjoyable for it.

Click here to buy or check out this item
RK
Written January 2003
Go to the Official Immolation site