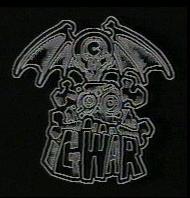 GWAR - "THE DAWN OF THE DAY OF THE NIGHT OF THE PENGUINS" (METAL BLADE VIDEO)
I consider myself One Of The Chosen Ones because I have actually witnessed one of those proverbial acts of random violence and purest debauchery that unsuspecting tour promoters have to refer to as "a Gwar show". Yes, innocents, I was there in the front row being bled and come upon when Gwar enriched Dutch culture by deigning to visit the Melkweg Max, Amsterdam, in 1997. And whereas so far I had to make do with a picture of me taken after the gig (taking the ability of the photo film to the limit in green, blue and red tones), now I have The Ultimate Souvenir to call my own: "The Dawn of the Day of the Night of the Penguins", a 1997 Gwar tour document that is as faithful as it's gonna get.
The video captures perfectly the chaos and entertainment factor of the "Carnival of Chaos" tour. It tells the story of Techno's attempts to hypnotise Slymenstra into marrying him, then ultimate her casting off his spell and, of course, defeating him. Apart from it being the registration of the November 11 Gwar gig at the 9:30 club, Washington DC, Hunter "Techno Destructo" Jackson has added small visual extras to enhance the story. Although visually and sonically overdubbed here and there, the atmosphere is all there. I recall it vividly now, not having a dry thread of clothes on my body, having seen Slymenstra sing her heart-shattering "Don't Need a Man"...and it's all on the video, too. The tape starts off rather ordinarily - for Gwar - with a bloody decapitation, but then offers a wealth of climaxes that cannot possibly all be summarised here. They include Slymenstra's blood-curdling firedance (and, ouch, did I suddenly remember the way my skin almost scorched when I saw it done but a metre in front of me), the mutant penguin fight during "Penguin Attack", Slymenstra's enchanting wedding attire, Techno's ultimate defeat during "The Private Pain of Techo Destructo", culminating in the appearance of a giant Gor-Gor and his inevitable (bloody) decapitation.
The video ends with the video clip to "Don't Need a Man", with Jaws playing the piano, Techno guzzling oil. Good fun, which is basically what you can say for the whole video. Gwar fans will not be disappointed.

RK
Written March 1999
Go to the Official Gwar Home Page