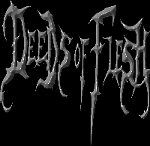 DEEDS OF FLESH - "PATH OF THE WEAKENING" (UNIQUE LEADER ENTERTAINMENT)
"California's most brutal band," thus the bio enthuses. Well, it's hardly off the mark, to be honest; Deeds of Flesh can effortlessly compete with big names the likes of Cryptopsy and Immolation with their frantic riff assault, delivered in the company of a frenzily energetic barrage of drums. It's band like this that disable the "as if hunted by the Marquis De Sade" simile - these guys would give the ol' Marquis a good run for his money and a pair of shit-coated undies to boot!
The promo offers three tracks of their new album, "Path of the Weakening", the band's fourth full-length release. Check out their official web site for sound clips or, better yet, just send some dosh (US$ 16 US, US$ 18 World, including postage) to: Unique Leader Entertainment, P.O. Box 6544, Los Osos, CA 93412, USA.

RK
Written August 1999
Go to the Official Deeds of Flesh Web Site