HOUWITSER, DECAPITATED, MONSTROSITY, KRISIUN, DYING FETUS AND VADER - EFFENAAR, EINDHOVEN, 6 SEPTEMBER 2002
With the current Vader tour package I was finally able to see one of my favourite death metal bands, Monstrosity! I would gladly have gone to see the package if Monstrosity had been the only decent band, however there was a lot more to be seen that wasn't bad either...
I arrived in time so hear the final chord or two of Houwitser. Not sufficient for any impression other than a rather superficial one. Next up, however, were Decapitated. I can't say that I'd heard anything by them before, but my impression was that they are a more technical version of Vader, which will lead me to check them out in more detail somewhere in the future.

Monstrosity was next on the bill. Such as you may have read elsewhere, Monstrosity is one of the few bands that managed to keep me on the right side of sanity a little over a year ago when I went through some personal emotional turmoil. When the first notes of the intro ("The Eternal Hunt") was played, I entered a state of rapture. It didn't end until the final notes of the Slayer cover "Angel of Death". A good time was had by all, and by me in particular. They played my all-time favourite, "The Angels Venom", as well as "Destroying Divinity", "Fatal Millennium", "Perpetual War" and "Imperial Doom", as well as a new track I think was called "Total War" or something similar. We may expect it on CD around the very end of the year or the beginning of the next. The only lesser thing about Monstrosity was that their music really needed two guitarists instead of one. Because of that, there were some gaps in the sound during the solos (and there were some sound problems to begin with).
Sound problems also haunted Brazilian turbo metal band Krisiun. Drum trigger problems, they said. Nonetheless they delivered a most unrelenting and very energetic set with grade A death metal. The only criticism aimed at Krisiun could be that their music all pretty much seems to be the same speed, lending the tracks an unwanted sensation of sameishness.
Dying Fetus were up next. Somehow nothing sparked between them and me, so really I can't comment.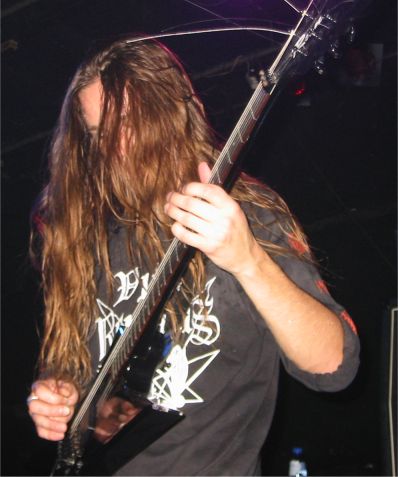 Up last were Vader. I wasn't too disappointed when they played only for a short time - they always tend to do that. They played some old stuff, some new stuff from "Revelations", and some stuff that went in between. Doc again made it appear as if really drumming is pretty easy, the band was spot-on. A good show, with quite some audience movement going on.
RK
Written September 2002