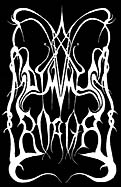 DIMMU BORGIR - "WORLD MISANTHROPY" (NUCLEAR BLAST) (THE LIMITED EDITION 2DVD VERSION
My most played album of all time so far is Dimmu Borgir's "Puritanical Euphoric Misanthropia". It almost single-handedly pulled me through some rather gloomy months during which, almost literally, metal made me hang on to the frayed ends of sanity. Especially Nicholas Barker's joining the band pushed them up a notch of technical excellence. So I didn't have to think long when I read about a DVD release. I kinda liked their concert performance I had seen last year, and I was hoping for some Nicholas Barker drumming close-ups to boot. A double DVD limited edition release included an extra CD with Japanese bonus tracks and live material, so I didn't have to think much longer to go for that (unfortunately most expensive) version.
The package is lavish indeed. Lots of artwork, a large inverted cross layout when folded open, and a prominent "6" on every disc. Yes, a lot of thought went into this...
Basically, the package contains a regular DVD, a bonus DVD and a bonus CD. The regular DVD contains live tracks intermingled with interviews and backstage/home footage. The live stuff is from Wacken 2001 and the Stuttgart performance a few months earlier of which the same tracks were used for the shaped CD EP "Alive in Torment". So you get all your favourites, including "Blessings Upon the Throne of Tyranny", "The Maelstrom Mephisto", "The Blazing Monoliths of Defiance" and 5 more. Unfortunately, some of the really fast parts seem to have triggered the video technician into let's-experiment-widly-with-the-screen mode, so you can't really see what the musicians are doing. That sucks. No good Nicholas Barker close-ups here. The live tracks are, like I said, interspersed with, um, amateur footage. This includes interviews (pretty standard), shots where a hotel toilet is demolished, shots where a hotel toilet is filmed after a Dimmu Borgir member has crapped in it, Dimmu and Destruction at the French Riviera, people flipping fingers at the camera, and a whole lot of other things that generally tell you how young these guys really are. I was like that, too, but that was over 10 years ago (and I never filmed my own crap). Oh, and I almost forgot to mention the two snippets definitely worthy of viewing. First there is an actual Nicholas Barker drumming close-up: He's like a fat Cenobyte whose hands move ultra-rapidly, it's pretty amazing to see. The second bit that's interesting to see is a cute picture of Galder and Shagrath when they were, like, 8, looking disarmingly harmless.
The bonus DVD contains further live performances: Poland 1998 (quality even superior to the first disc), Lowlands 1999 (mediocre indeed, large distance, bad sound) and half a minute or so of a US festival (hardly worth mentioning). It also contains four video clips, from "Alt Lys Er Svunget Hen" (3 guys in a badly lit rehearsal room playing the song live, 1995) to "Puritania" (video clip basically Live from Wacken). Interesting stuff. The "Spellbound" video clip is an over-the-top compilation of fire breathing, with an occasional glance of Kimberly Goss on the keyboard. That was 1997.
The main reason why I decided to go for the lavish limited edition version, call me crazy, was the bonus CD. It was no letdown. It contains some Japanese bonus tracks ("Devil's Path 2000" and "Masses for the New Messiah") as well as the four live tracks from Wacken. I would have liked the four Stuttgart tracks on there as well, so I could at least have sold my shaped EP thing, but hey you can't have everything.
This limited edition DVD walks the fine line - at 35 Euros (about $32) - of being too expensive. So you decide.

RK
Written May 2002
Go to the Official Dimmu Borgir site