BOSPOP - WEERT, NETHERLANDS, 14 JUNE 1998
Rain and even more rain, that was the weather prediction for the day on which the atmospheric Bospop festival would be held. Thankfully the weather gods kept themselves in check so there was only one semi-prolonged shower in the early evening. That means I'll be able to concentrate on the bands instead of the weather.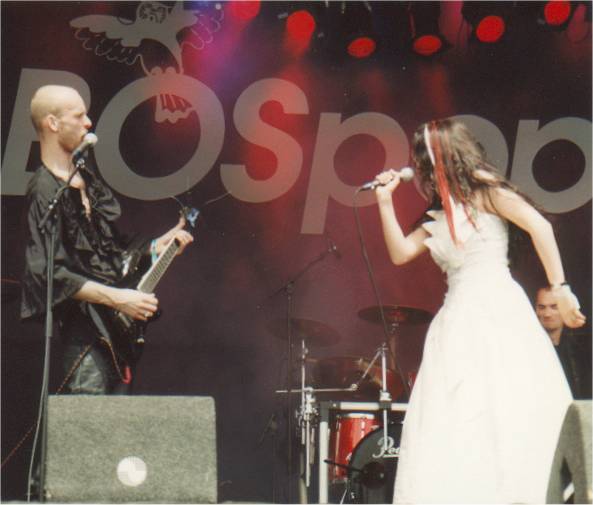 I missed the first band except for one or two songs. I don't actually remember which band it was, but I reckon it was Arabesque. At a quarter past noon, however, the first climax of the day started in the shape of Dutch band Within Temptation. Whereas angelic singer Sharon den Adel had worn a black wedding dress about a month earlier at Dynamo Open Air, now she wore a white one that was simply ravishing. But it's the music that counts, of course, and nobody complained when it came to that, I guess. Three quarters of an hour of utter enjoyment was what the collected audience got, including the three new songs off the "The Dance" EP - including "The Other Half (of Me)", one of my favourite songs, a superb duet between Sharon and guitarist/vocalist Robert Westerholt.
The rest of the afternoon saw, in slightly mixed-up order of appearance, the following bands...
Arena. A band that seemed to me pretty full of themselves, especially the singer who strutted around making gestures of great portent. The announcer claimed that Arena didn't perform often but that they'd been able to book the band for the festival, and I don't really wonder why the band doesn't perform often. Arena consists of members of prog-rockers IQ and ex-members of Marillion. This should give you a fair indication of what to expect. I didn't exactly dislike it, but there was no magic as far as I was concerned.
Johnny Lang. "Straight out of the support slot of the Stones tour," and it's not difficult to see how this guy landed that enviable position. Even though he can't have been over 20, he played like B.B. King was hunting him down, with threadbare vocals accompanying exquisite blues songs. Very interesting and worth while checking out.
Life of Agony. To be born and get a name like Whitfield Crane. I think I'd kick my parents as soon as I had the strength. Anyway, Whitfield is the guy who got the difficult job to fill in Keith Caputo's vocals after the latter's departure from Life of Agony. For me that wasn't too difficult, having never seen Keith perform, as Crane's vocals sounded very much like Caputo's. I think it's a bit odd that LoA is described as "New York Hardcore", because clearly they aren't. Except for one or two songs that the vocal duties were performed by the guitarist and bassist on, Life of Agony plays mature, well-written metal - or is it hard rock? Whatever it is, it's not hardcore. The best songs off "Ugly", "River Runs Red" and their latest album ("Soul Searching Sun" I seem to recall?) were performed, including the excellent "I Regret" and "Lost at 22". The band knew how to play the audience, too, with Crane causing the crowd to break out in a frenzy (just by moving his finger) in a way that would have caused the Arena frontman to get a wet dream.
Of course, another climax of the day to me was Yngwie Malmsteen's performance. Even though he seems to have gained a few pounds every time I see him, and he uses ever more plaster and other make-up on his face, he just remains god on the guitar. If only he'd concentrate on being down-to-earth a bit more, instead of literally hurling his guitar around half a dozen times in each song, throwing zillions of guitar picks around like there's no tomorrow...I am afraid Yngwie is much becoming a caricature of the over-the-top rock guitarist he already was.
Be that as it may, he did play the usual classics ("Far Beyond the Sun", "Black Star", "You Don't Remember...", "I'll See the Light Tonight") as well as a few more recent songs (including "Braveheart" and "Facing the Animal", two of the coolest songs on his recent album "Facing the Animal"). There was also a small classical piece lifted off his "Millenium Suite" album (as yet only available in Japan) as well as the turbo version of "I am a Viking" and the superfluous "Heaven Tonight" (too smooth, too commercial, too Joe Lynn Turner). Unfortunately there were no songs off "Magnum Opus" nor "Seventh Sign", which I thought was a darn shame.
Nonetheless I felt my hands go clammy with sweat, and once back home I grabbed hold of my Strat with frustration to have another go...
Last...and least...the headliner, Van H...um...Status Quo. It was a good thing that I had checked out the Bospop website a couple of days prior to the festival, for otherwise the fact that Van Halen had been replaced by Status Quo would have left me much more disappointed. Alex van Halen had apparently been knocked down by a piece of ceiling in Germany, causing the gig to have to be cancelled. This must have posed the Bospop organisation with quite a problem, which they solved by hiring Status Quo.
Because the weather was cooling down rather a lot and I didn't feel too much like waiting to see an hour and a half of identical three-chord progressions I decided to go back home so I could catch some World Cup Football. They will no doubt have played "In the Army Now".
I think it's good that the organisation had managed to arrange a band of some standing, but Status Quo just isn't my cup of tea. I have a gut feeling that Van Halen will be playing next year, and I surely hope to visit Bospop again then.
RK
Written July 1998