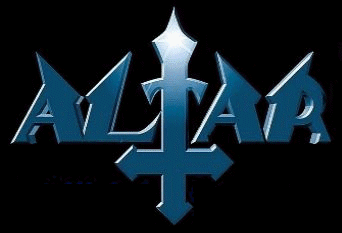 ALTAR - "UNTIL HEAVEN FORBIDS" (SPITZENBURG RECORDS)
It's been exactly a year since Altar released their latest album, "In the Name of the Father". Because they aren't quite up to recording their next album, they have released "Until Heaven Forbids", an EP/maxi single/whatever.
There's only one new track on "Until Heaven Forbids", a song called "I Am Your Provider" (which isn't about the Internet :-). It's an OK song, nothing too spectacular, but it's the other tracks on the album that make this worthy of purchase. For starters there's the heavy cover version of Iron Maiden's "The Trooper", which the band have been playing live for a while now. Speaking of 'live', the CD also contains live tracks recorded at the 1999 edition of Waldrock, "Throne of Fire" and "Psycho Damn". Most interestingly, the CD now makes available the four demo tracks that originally appeared on the "And God Created Satan to Blame for His Mistakes" tape, which hasn't been available for several years ("Throne of Fire", "Forced Imprudence", "Psycho Damn" and "Cross the Bridge of False Prophecies/Dismantling the God"). Those of us with a PC also have access to the "God Damn You" video clip, which is OK.
A very interesting release that no Altar fan (especially those of the first hour) should be without.

Click here to check out or buy this CD
RK
Written July 2000