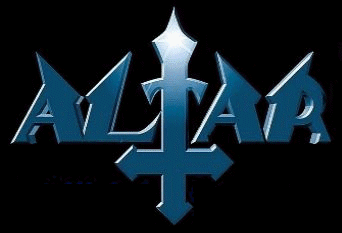 ALTAR - "IN THE NAME OF THE FATHER" (SPITZENBURG RECORDS)
When Altar burst on the scene with their 1994 debut "Youth Against Christ", they made a deep impact. Few Dutch bands were as brutal as Altar, which made their debut album, well, a run-away success.
Their successive albums, though still no less brutal, failed to make a similar impact. The albums were good stuff, however, no matter if they failed to equal or best the impact of their debut. "In the Name of the Father" is a lot like their previous post-debut efforts. Vocalist Edwin continues to be angry at the world, at religion, at just about everything. Sjoerd is still an absolute animal behind the drum kit. It's the production of the album that holds it back. It sounds like most of the high frequencies have been squashed, causing the album to sound very heavy but a bit one-dimensional.
A fine album, but not very exceptional.

RK
Written July 1999
Go to the Official Altar Web Site